Herb Pharm - Turmeric Softgels - 60
HPTURMSG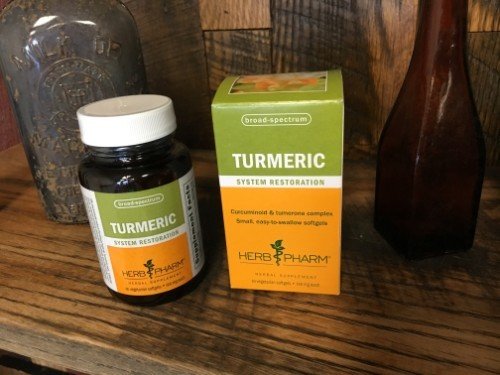 Turmeric Softgels
Ingredients:
Each vegetarian softgel contains 200 MG of water-extracted, Certified Organic Turmeric (Curcuma longa) root providing 20 mg of curcuminoids, 25 mg of Certified Organic Turmeric root supercritical extract providing 12 mg of tumerones, and 5 mg of Certified Organic Black Pepper (Piper nigrum) supercritical extract.
Additional Ingredients:
Certified Organic Olive oil, beeswax and Certified Organic Sunflower lecithin. Vegetarian softgels are made from modified food starch from non-GMO corn, vegetable glycerin, purified water, carrageenan (from seaweed), sorbitol and Certified Organic caramel
Description (from manufacturer):
A popular culinary spice for its pungent flavor and rich color, Turmeric also has a long history of healing in the traditional medical systems of China and India. Modern clinical research increasingly confirms and advances Turmeric's diverse health benefits. Herb Pharm preserves the purity and safety of our Certified Organic Turmeric roots through natural extraction with water and supercritical CO2, thereby avoiding the synthetic chemical solvents favored by many manufacturers. Our meticulous combination of concentrated extracts ensures delivery of verified amounts of curcuminoid and tumerone compounds within the broad spectrum of Turmeric's natural chemical profile. The addition of a supercritical CO2 extract of Certified Organic Black Pepper (Piper nigrum) aids body's utilization of our Turmeric's full potency.
Suggested Use:
Take 1 softgel, 1 or 2 times per day. Best taken with meals.
Cautions:
Seek expert medical advice before taking during pregnancy or nursing. Keep Out of the Reach of Children