Colloidal Silver - First Aid Gel - 1 fl oz
SILV_GEL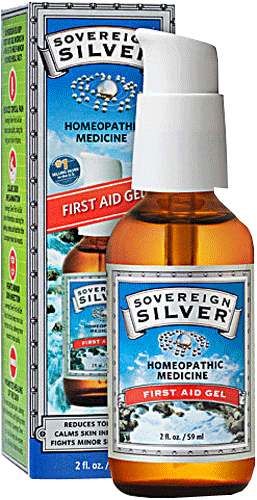 First Aid Gel $17

Homeopathic medicine relies upon naturally occurring substances, including those from the mineral kingdom. These stimulate the natural healing processes of the body.
Argentum Metallicum is officially approved by the Homeopathic Pharmacopoeia Convention of the United States (HPCUS) for all indications listed here. No other natural first aid gel has such a broad spectrum of applications.

Sovereign Silver First Aid Gel is the perfect alternative to conventional and herbal topical treatments, with these distinct advantages:
Kid-Friendly1: Sting-free formula reduces topical pain, does not add to it
Safety: Homeopathy has no known side effects
Clean & Pure: No synthetic preservatives
Non-Greasy, Transparent & Odorless: You'll hardly know it's there
For fast healing of all kinds of minor wounds, Sovereign Silver First Aid Gel relieves:
Burning
Stinging
Itching
Redness
Stiffness and pain from minor wounds
Minor burns
Bruises
Ulcerations (minor cuts and scrapes)
Blisters
Bug bites
Skin eruptions from acne, eczema or infection
Rashes
1 with adult supervision
* These statements have not been evaluated by the FDA. This product is not intended to diagnose, treat, cure or prevent any disease.
Credit:Sovereignsilver